STENO TERRAZZO
Terrazzogulv from StoCretec Flooring AS
Terrazzo is timeless , seamless and "marbellous". Marble and colored binder , eventually also glass , mother of pearl or broken mirror, create beautiful seamless surfaces with the expression, motifs and patterns wanted ,high gloss or mat , also with profiles or colored lines if there is a need to break up the floor surface visually. In combination with marble we use resin binder , with the same appearance as cement based terrazzo but with many advantages ; greater choice of colour, better chemical resistance , reduced thickness and weight and minimal risk of cracking. Steno Terrazzo can be used anywhere where a beautiful and hardwearing floor is requested and where low maintenance costs have a priority. a sound insulation system may be installed directly under the terrazzo system and it can be installed on stairs. Steno terrazzo will create an environment with a special character
Terrazzo is timeless, seamless and "marvellous".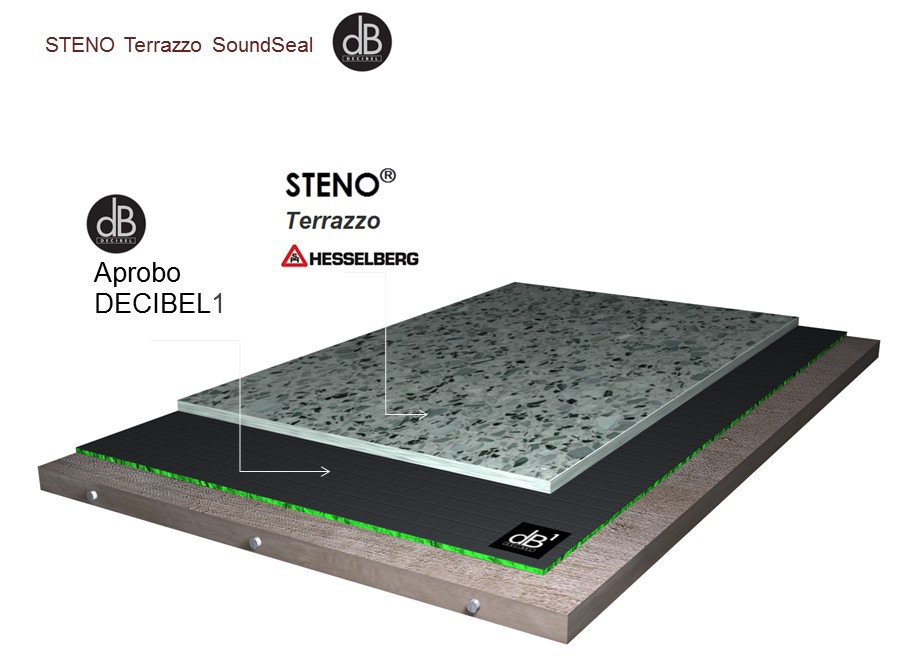 Steno Terrazzo, now also with noise reduction
In cooperation with Aprobo in Sweden StoCretec Flooring has developed Steno Terrazzo with noise reduction. Steno Terrazzo can be installed directly on a specific acoustic mat and achieve sound reduction up to 19 dB . To achieve even higher reduction a softer acoustic mat can be specified, but this will require an intermediate layer of cement based screed . All the benefits of the Steno terrazzo system , including low building height in refurbishment projects, are offered in combination with noise reduction.
This post is also available in: Norwegian Bokmål